At Capacity
Make-A-Wish Golf Tournament Golf · Any Any Skill Level!
Sold Out
Team Fees

Regular

$400.00 per team
We are pleased to announce that on Saturday, June 27, 2015 the Scranton Social Sports Club will be hosting a Golf Outing in support of our mission, at Pine Hills Golf Course, Taylor, PA. All proceeds from this fantastic event will be used to fund the wishes of local children who are living with life-threatening medical conditions. Scroll down for details!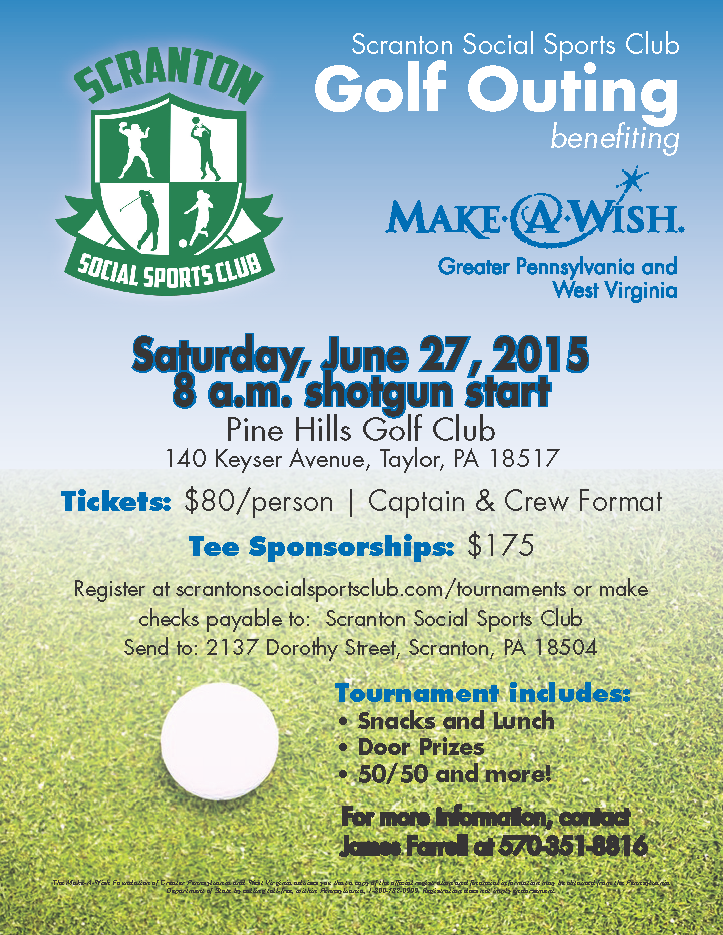 The tournament will be run as a captain and crew format. Please sign up as soon as possible as we are expecting a full field. The costs for the tournament we be $75.00 per person or $300 per for a 4 person team. You will be enjoying a round at Pine Hills Golf Course, 140 Keyser Ave., Taylor, Pa 18517, (570)562-0138 on Saturday, June 27, 2015, lunch, a mini buffet, and drafts. We will be awarding prizes and a donation to our make a wish Family.

Tournament Sponsors:
Anyone looking to help us make these wishes come true by becoming a Tee or Green Sponsor for $175.00. Your sponsorship includes having your companyâ??s name displayed on the tee or green as well as recognized during event luncheon following the day of golf. Please join us in making this Golf Outing a success by pledging your support today! Please contact us at 570-209-5869 if you would like to become a tournament sponsor!
Donations of prizes, gift cards and services are also welcome and will assist us in raising more funds for this great cause. To become a sponsor or register your team, please complete the attached form and return to the address provided.
You may register here online OR please send your application and check payable to SSSC Charity Golf Tournament to:
SSSC Charity Golf Tournament
418 Powell Avenue
Clarks Summit, PA 18411